Here's a little sneak peak at my plans for the child's room bath...
As I stated in a previous post, the bathroom is larger than it appears in photographs. It is also rather difficult to photograph due to the ceiling angles. The bathroom is painted in the same color as the bedroom, Benjamin Moore Golden Straw 2152-50, however, because there are no windows in the bathroom, the color appears richer than in the bedroom.
Here is the shower curtain fabric, Soprano Summer.
I plan to do dual panels with tie backs.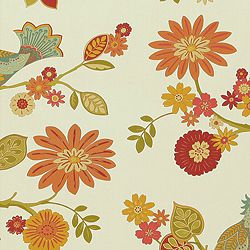 Here are my Yves Delorme Kacho Ga bath towels that pullout the pumpkin color
from the shower curtain fabric as well as the bird motif.
The bathroom is long and narrow, so I plan to add this cute Paula Deen bench
as a place to rest while dressing or to stack additional towels.
The bench will be covered with a slipcover in this colorful zigzag fabric.
I also found these fun elephant hooks that
I plan to use for hanging up towels or clothing.
So that's it for the bath! Stay tuned for updates on the furniture selection!
Until next time...
Sheilah