One of the many perks of living in the Charlottesville area is being blessed with an abundance of historical architecture. So, on July 4th I hightailed it up to James Madison's Montpelier. What better way to spend Independence Day then at this former president's home?!
The last time I had been to Montpelier was in 2006 during the extensive renovation. The first thing my eyes touched on this time were the colorful green shutters. They are the color of trees! I loved them! I know this isn't a very good picture, but I wanted to give you an idea of the whole house in relation to the shutters. Love those ocher doors, too!
This is the view from the front lawn of Montpelier looking out at the gorgeous
Blue Ridge Mountains. I parked my lawn chair there and soaked up the view.
What a treat!
I was inspired by the view to seek out other examples of nature's lovely palette.
Green shutters on white clapboard siding...
Green shutters as a lovely contrast to whitewashed shakes.
Stone walls and green shutters...very rustic
Quaint green garage doors...
Yellow stucco and green shutters, very Tuscan...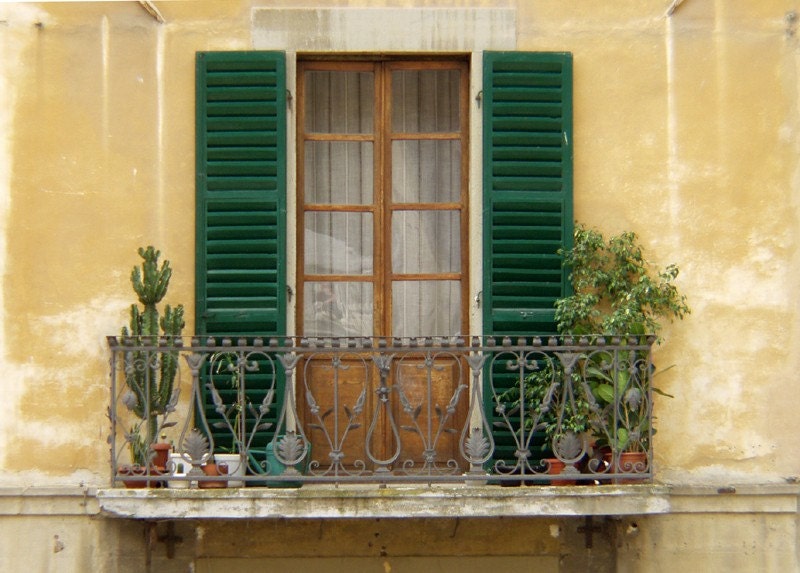 I hope you're inspired to use this gardeny green somewhere, such as a bench,
a front door, a garden shed, or better yet, a garden gate!
Until next time...
Sheilah