My dear friend Jennie's birthday is coming up in a few days and I've decided to surprise her with a few updates for her condo bathroom. Of course she won't be totally surprised since she reads my blog, but hopefully she'll have received my gifts by then! (Fingers crossed xx!)
So in honor of Jennie, I wanted to share some design pics of blissful baths. Of late many folks are opting to include only a shower in their masterbath and foregoing the plethora of interesting tubs available. Personally, I'm a bathtub gal and find it hard to narrow my choice down to just one tub idea.
Keep in mind during any design project that even with a small budget, you can
always
include some aspect from your dream design photos, such as cabinet finish or wood, window treatments, tile, lighting or plumbing fixtures, accesories (such as chair with a stack of towels) or even the feel of the space (Asian, rustic, mid-century, etc.).
Let's have a look!
Love the window treatments and the little vanity skirt...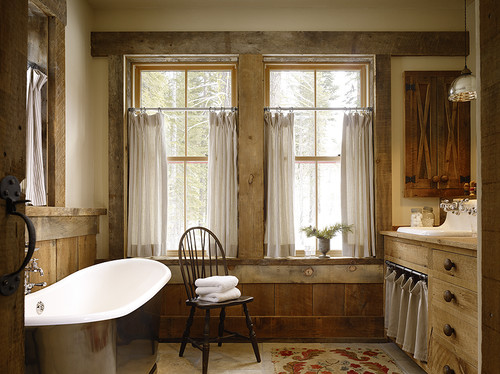 Cozy!
Handsome features such as the wood window panes
and wood tub surround create an Asian influence...
The carved wood panels and stained glass window add a zen feel to the space...
Barn-like lighting fixtures, raw wood cabinetry, and the concrete counter
create a contemporary farmhouse feel...
Rustic, yet modern...
The concrete counter and abundance of metal in the lighting
fixtures and cabinetry hardware create an industrial look...
Hope you feel inspired to at least run out and purchase some soft
microfiber bathmats such as the ones above!
Until next time...
Sheilah